Past Event
CAD 2017
March 3, 2017
8:00 AM - 6:00 PM
Event time is displayed in your time zone.
Columbia Law School, Jerome Greene Hall, Room 106
Striking a Balance: Confronting Tensions in International Arbitration
All conference information can be found in the program.
Welcome from Dean Gillian Lester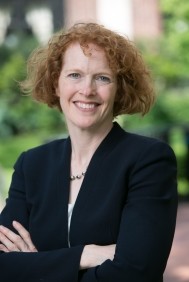 Dear Conference Participant,
It is my pleasure to invite you to Columbia Arbitration Day on March 3rd, 2017. We are very pleased to host a number of leading practitioners in the field of international arbitration, outstanding faculty, as well as students and alumni, for a day-long conference. This effort arises from our recognition of the common interests of practitioners, academics, and students in this field, and our belief that we can offer a valuable and unique service by bringing these diverse groups together. We hope to provide a platform for the mutually beneficial exchange of ideas and solutions to some of the most topical and difficult issues in this field today.
We hope that you will take advantage of this opportunity, and we look forward to welcoming you to Columbia Law School.
Best,
Gillian Lester
Dean and the Lucy G. Moses Professor of Law
Welcome from Professor George Bermann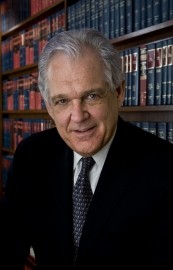 Now in its eighth year, Columbia Arbitration Day ("CAD") has become a fixture on the international arbitration community's annual calendar—and for good reason. The event has a sterling reputation, even alongside the many fine programs that populate the field. Attainment of this status is all the more impressive due to the fact that the Columbia International Arbitration Association (CIAA) has made this possible with minimal reliance on the faculty and administration of the Law School. It is a tribute to the initiative, resourcefulness and energy of the student organizers.
The theme this year—"Striking a Balance: Confronting Tensions in International Arbitration"—is a reminder that constructing and operating a fair and efficient international arbitral process entails a tradeoff among competing objectives. Cognizance of that is all the more important in a time when arbitration—whether commercial or investment—is coming in for concerted criticism. This year's program reflects the CIAA's attunement to acknowledging and addressing the challenges that the international arbitration regime currently faces and is likely to in the years ahead.
The roster of speakers is also as magnificent as ever. That too is a product of CIAA's energy and ambition in attracting the best and brightest to address us on this occasion. It is not surprising that our many LLM students from abroad have succeeded, as they always do, in bringing their most outstanding mentors from home to our program. It remains a genuine tribute to the program that invitees accept with alacrity invitations to speak at CAD.
The level commitment at Columbia to the international arbitration field is unparalleled in this country, and CAD is its embodiment. I wish to thank our student leaders for their ingenuity and dedication in assembling this program and for all else they do to make Columbia the vibrant setting for international arbitration study that it has become.
And now, along with the Dean and CIAA, I want to welcome all who have taken the time out of busy schedules to attend this year. I have every confidence that you will find the day as instructive as it is enjoyable. Thank you for being part of it.
Professor George A. Bermann
Director, Center for International Commercial and Investment Arbitration
Welcome from the Conference Chairs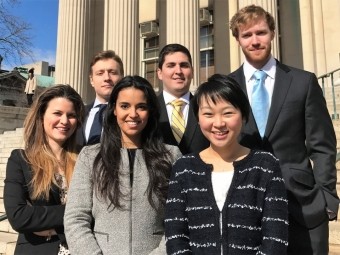 Dear Conference Participants,
It is our pleasure to welcome you to Columbia Arbitration Day 2017. Over the past eight years, this event has become a prominent fixture on the international arbitration calendar.  As a result of the hard work of our predecessors, we are today able to attract leading academics and practitioners for an annual discussion of the issues faced by the international arbitration community.
This year's theme, "Striking a Balance: Confronting Tensions in International Arbitration," considers the diverse interests in international arbitration that are in frequent competition with one another, and without a defined hierarchy. These unresolved tensions often leave both counsel and arbitrators with no other choice but to engage in the delicate endeavor of striking a balance between equally legitimate, yet irreconcilable interests. Absent a clear-cut answer i doctrine or case law, solutions to these issues are usually reached on a case-by-case basis, and do not always lead to optimal results.
The aim of this year's conference is to unpack some of these tensions, and engage in discussions that will assist in shaping more effective solutions. Our panels will consider the issue of State liability, the admissibility of "illegally-obtained" evidence, the multifaceted nature of double recovery, and practitioners' conflicting ethical obligations. In addition, this year's keynote speech will address the knotty issue of third-party funding.
We hope Columbia Arbitration Day 2017 will enable scholars, practitioners, and students to share experiences, make meaningful connections, and gain valuable insight into these complex and recurring issues faced by the international arbitration community.
Thank you for joining us, and welcome to Columbia Arbitration Day 2017.
Sincerely,
Paris Aboro, Michael Lemanski, Arianna Rosato, Mauricio Salgueiro, Seri Takahashi, and Logan Wright
Columbia Arbitration Day 2017 Conference Chairs
Welcome from the Founder and Executive Advisor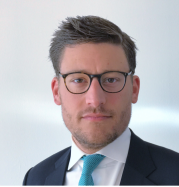 Dear Conference Participants,
The field of arbitration prides itself as being highly dynamic—with an impressive ability not only to resolve commercial and investment-related disputes quickly and efficiently to the benefit of clients all around the globe, but also with an ability to quickly adjust its framework and processes when issues arise and improvements are needed. These adjustments are, of course, not made by a central authority, but instead by those who practice arbitration.
The Columbia Arbitration Day has, since its inception in 2009, taken a special role in this adjustment process—for it has combined the powerful thought materials developed by academia with the relevance of professional practice, helped inspire debate where it is needed, and has through networking opportunities brought the arbitration community closer together with the next generation of legal minds.
This year is no different: under the theme of "Striking a Balance: Confronting Tensions in International Arbitration," the Columbia Arbitration Day takes a close and indeed timely look at the challenges facing the arbitration community today, including on issues related to double recovery, the admissibility of illegally obtained evidence, third party funding, conflicting supranational obligations in state liability, and ethics rules.
Identifying, debating, and resolving these tensions is critical for the dynamism of arbitration, so it is our honor to be able to offer to you yet another excellent program this year. But all of this would of course not have been possible without the tireless efforts of this year's incredibly dedicated team of conference chairs and the organizing committee—so please join me in congratulating them for putting together such a terrific program!
With this, I welcome you to this year's edition of the Columbia Arbitration Day, which I am certain you will find to be a very rewarding and intellectually enriching experience.
Dr. Matthias M. Pitkowitz, Esq.
Chief Executive Officer, Equilibrium Stock Exchange
Founder and Executive Advisor, Columbia Arbitration Day
Conference Program:
Time

8:30 – 8:55

Event

Registration & Breakfast
Time

8:55 – 9:00

Event

Conference Introduction by CAD Co-Chair
Time

9:00 – 10:20

Event

Panel 1 – The One Thousand Faces of Double Recovery (1.5 CLE credits available)

Marinn Carlson, Sidley Austin, Washington, D.C.
Elliot Friedman, Freshfields Bruckhaus Deringer, New York City
Dietmar Prager, Debevoise & Plimpton, New York City
Mohamed Shelbaya, Shearman & Sterling, Paris
Moderator: Oliver Thomas Johnson, Columbia Law School and Iran-U.S. Claims Tribunal, New York City
Time

10:20 – 10:40

Event

Coffee Break
Time

10:40 – 12:00

Event

Panel 2 – The Admissibility of Illegally Obtained Evidence in International Arbitration (1.5 CLE credits available)

Ian Binnie C.C., Q.C, Former Justice of the Supreme Court of Canada, Toronto
Paula Hodges Q.C., Herbert Smith Freehills, London
Natalie Reid, Debevoise & Plimpton, New York City
Howard Zelbo, Cleary Gottlieb Steen & Hamilton, New York City
Moderator: Kabir Duggal, Columbia Law School and Baker & McKenzie, New York City
Time

12:10 – 1:00

Event

Lunch
Time

1:00 – 1:50

Event

Keynote Address – Third Party Funding and International Arbitration  (1.0 CLE credits expected)

Carolyn Lamm, White & Case, D.C.
Time

2:00 – 3:20

Event

Panel 3 – Conflicting Supranational Obligations: The Complex Web of State Liability (1.5 CLE credits available)

Mark Beckett, Cooley, New York City
Coralie Darrigade, Shearman & Sterling, Paris
Sophie Nappert, Arbitrator, London
Aníbal Sabater, Chaffetz Lindsey, New York City
Moderator: George Bermann, Columbia Law School, New York City
Time

3:20 – 3:40

Event

Coffee Break
Time

3:40 – 5:00

Event

Panel 4 – Ethical Rules: Reconcilling Conflicting Sources and Traditions (1.5 CLE credits available)

Charles Adeyemi Candide-Johnson, Lagos Court of Arbitration, Lagos
Dr. Tai-Heng Cheng, Quinn Emanuel, New York City
Diane Desierto, University of Hawaii at Mānoa, Honolulu
Catherine Rogers, Penn State University, University Park
Moderator: Alejandro Garro, Columbia Law School, New York City
Time

5:00 – 5:05

Event

Concluding Remarks by CAD Co-Chair
Time

5:10 – 7:00

Event

Cocktail Reception and Raffle Contest