Past Event
CAD 2011
March 25, 2011
9:00 AM - 8:00 PM
Event time is displayed in your time zone.
Jerome Greene Hall, Room 104
Cutting Edge Issues in Complex Arbitration
Download the Conference Program
Welcome from Dean Schizer

Dear Prospective Conference Participant,                                              
It is my pleasure to invite you to Columbia Arbitration Day on March 25, 2011. We are very pleased to host several leading practitioners in the field of international arbitration, outstanding faculty, as well as students and alumni, for a day-long conference. This effort arises from our recognition of the common interests of practitioners, academics, and students in this field, and our belief that we can offer a valuable and unique service by bringing these diverse groups together. We hope to provide a platform for the mutually beneficial exchange of ideas and solutions to some of the most prominent and difficult issues this field faces today.
We hope that you will take advantage of this opportunity, and we look forward to welcoming you to Columbia Law School.
Best,
David M. Schizer
Dean and the Lucy G. Moses Professor of Law
Welcome from the Conference Chairs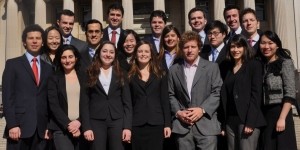 Dear Colleagues,
It is with great pleasure that we invite you to the Second Annual Columbia Arbitration Day, to be held on Friday, March 25, 2011. The Columbia International Arbitration Association (CIAA) is honored to welcome seventeen eminent practitioners and professors to Columbia Law School for a one-day conference on "Cutting-Edge Issues in Complex Arbitration."
The conference will focus on both the theoretical and practical challenges in arbitrations, involving multiple parties, multiple contracts and parallel proceedings. It is our aim to shed light on these issues from manifold perspectives at each stage of the arbitration process. To achieve this, we have sought to engage professors, arbitrators, practitioners, case managers and judges, all of them with varied backgrounds and from different legal systems. 
Our first Panel will address issues arising at the commencement of any complex arbitration, at the moment of arbitrator appointment. It will seek to bring attention to those topics and situations of which practitioners and institutions need to be aware. The second and third panels will go into deep theoretical and technical issues often arising later in the procedure, particularly when parallel proceedings are involved. Panel 2 will discuss the impact and interrelation of legal doctrines such as res judicata, lis pendens, and forum non conveniens in complex arbitrations, from both a common law and a civil law perspective. Panel 3 will then focus on case management and practical considerations, by delving into the courses of action that can be taken by relevant actors when faced with complex arbitrations. It will explore the role arbitral institutions and national courts can or should play for tribunals to masterfully navigate complex proceedings into safe harbors. Finally, featuring a practitioner, a professor, a judge and a case manager, Panel 4 will experiment with the "D-Day" consequences of complex arbitrations. It will directly address the questions at stake once proceedings in a complex arbitration end and the arbitral award is put under test and scrutiny, be it at the annulment, enforcement or recognition stage.
In addition to the panels, the conference will offer a special bonus with a Restatement project update by Professor George Bermann. It will also again feature an evening reception, a lunch buffet and several coffee breaks for conference delegates to engage the panelists and other participants in deeper discussions. Columbia Arbitration Day 2011 will be a unique opportunity for practitioners, scholars and students in the field to come together, share, and gain special insight into the cutting-edge issues of this practice.
We hope that you will embrace this opportunity to meet your peers and sharpen your edge for the most significant and fast-changing issues in our field. 
We look forward to welcoming you in New York City on March 25th!
Sincerely yours,
Edith Aupetit & Ignacio Zapiola
Conference Co-chairs, on behalf of the Columbia International Arbitration Association
Conference Program
Time

9:00AM  - 9:30AM

Event

Registration & Breakfast
Time

9:30AM - 9:40AM

Event

Introduction to the Conference

Horatia Muir Watt, Sciences Po, Paris - James S. Carpentier Visiting Professor of Law. COlumbia Law School, New York
Time

9:40AM - 11:00AM

Event

Panel 1 - Appointment of Arbitrators: Best Practices, Repeat Arbitrators, and Conflict of Interest
Time

11:00AM - 11:30AM

Event

Coffee Break
Time

11:30AM - 12:50PM

Event

Panel 2 - Parallel Proceedings: Res Judicata, Lis Pendens, and Forum Non Conveniens
Time

12:50PM - 2:10PM

Event

Buffet Lunch Bonus Track: Remarks on the U.S. Restatement by George Bermann
Time

2:30PM - 3:50PM 

Event

Panel 3 - Case Management in Complex Arbitrations: The Role of Arbitration Institutions, Tribunals, and National Courts
Time

3:50PM - 4:20PM

Event

Coffee Break
Time

4:20PM - 5:40PM

Event

Panel 4 - The Annuilment, Recognition and Enforcement of the Arbitral Award: The Real Challenge in Complex Arbitration
Time

5:40PM - 5:50PM

Event

Concluding Remarks
Time

6:00PM - 8:00PM

Event

Evening Cocktail Reception